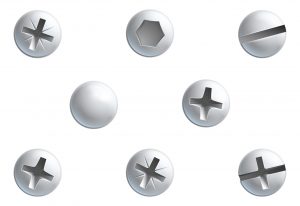 5 Benefits of Using Self-Drilling Metal Screws
Just a few years ago, the diverse options for fasteners and roofing techniques were limited. Now, people understand that metal roofs are good for the environment and good for your home.
If you're following the smart trend of getting a metal roof, then it's time to think about how you'll construct and secure it.
Here are five reasons you should consider using self-drilling metal screws to secure your metal roof.
Self-Drilling Metal Screws Save Time
If you're not using self-drilling metal screws, then you'll have to spend a ton of time prepping for the drilling process.
If you don't have self-drilling screws, you'll need to pre-drill all your holes. With a self-drilling screw, there's no need to waste time creating pilot holes.
When you're up on the roof in the beating sun, you don't  want to be there any longer than necessary.
Simple and Easy to Use
You don't have to be a professional to know your way around a self-drilling screw.
Self-drilling metal screws have a chisel tip that looks like a drill bit. It's important to research and understand the tools you're using, but if you have the proper drill then the process should be simple.
Eliminating steps makes installing your roof easier and faster.
A Screw for Every Need
No matter what kind of metal roof you're planning on using, there should be a self-drilling screw that works for you.
Self-screwing metal screws come in 5 different sizes. You'll need to match the size of your screw to the thickness of your metal.
The metal thickness that you're drilling needs to be thinner than the screw that you use.
The wide range of lengths should cover your metal roofing needs.
Designed with One Purpose in Mind
Innovations in the home building sector are almost always driven by increased efficiency.
The sole purpose of power and cutting tools is to cut time. Even drones and 3D printing are beginning to revolutionize the construction industry. Since self-drilling metal screws are designed to drill metal screws, they're the most efficient type to use.
Saving Time Means Saving Money!
Business has almost always been about building faster and better.
The best way to improve your roofing process is to get the very best tools and equipment. Having a metal roof has numerous benefits, but making a big change like re-roofing your house is a big investment.
To make the process worth it, use self-drilling screws. You'll save yourself time, resources, and stress by simplifying the process. Don't waste money buying unnecessary supplies that are less efficient.
Time is money! So, don't waste any of it.
Making the Smart Choice
By educating yourself about metal roofs and the best way to add them to your home, you're already on the right track.
If you have any questions about metal roofs or the proper screws to use, contact us here!